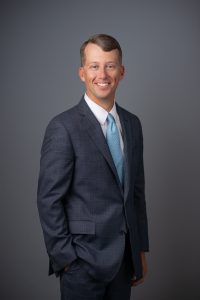 ROBERT E. ANDERSON
Robert is a civil trial attorney who concentrates his practice in defending personal injury, professional negligence, and construction defect claims. Robert has experience defending a wide range of claims through trial in both state and federal court. He is admitted to practice in all Florida State courts, as well as in the United States District Court for the Middle District of Florida.
Prior to attending law school, Robert served in the United States Marine Corps Reserve. While in the Marines, Robert managed the information systems for an aviation squadron and served as a marksmanship instructor for his unit. Robert's service in the Marines led to an internship with the U.S. Attorney's Office in Tampa, where he assisted on one of the first major terrorism trials following the attacks on September 11, 2001. That experience ultimately inspired Robert to attend law school at the University of Florida, where he graduated with honors in 2009.
Following his graduation, Robert moved to Fort Myers, where he lives with his wife, Bethany, and two young children. Fort Myers perfectly accommodates his twin passions of fishing and tennis. Robert is also very involved in the local community. He presently serves on the board of the local Imaginarium Science Center, and he also enjoys coaching high school students in the Lee County Mock Trial Competition.
Robert understands that each client has different goals in litigation, and he strives to provide the individualized service necessary to achieve those goals.